Original Staff at DeCormier in 1945
from left: Charles E. York Jr., Herman D. Gates, John F. Lynch, George F. De Cormier, Vincent A. Lennon, Thomas W. West
George F. De Cormier was born on February 7th, 1918 in Longmeadow, Massachusetts.  He attended Springfield schools, and graduated from Commerce High.  He met his wife, Wilhelmina (an immigrant of the Netherlands) while in 2nd grade.  George and Wilhelmina were married just after World War II started.  They moved to Connecticut where George worked as an Engineering Director for Pratt and Whitney in East Hartford.  Over the years, they were blessed with five (5) children, Carter, William, Doreen, Gerard, and Joe.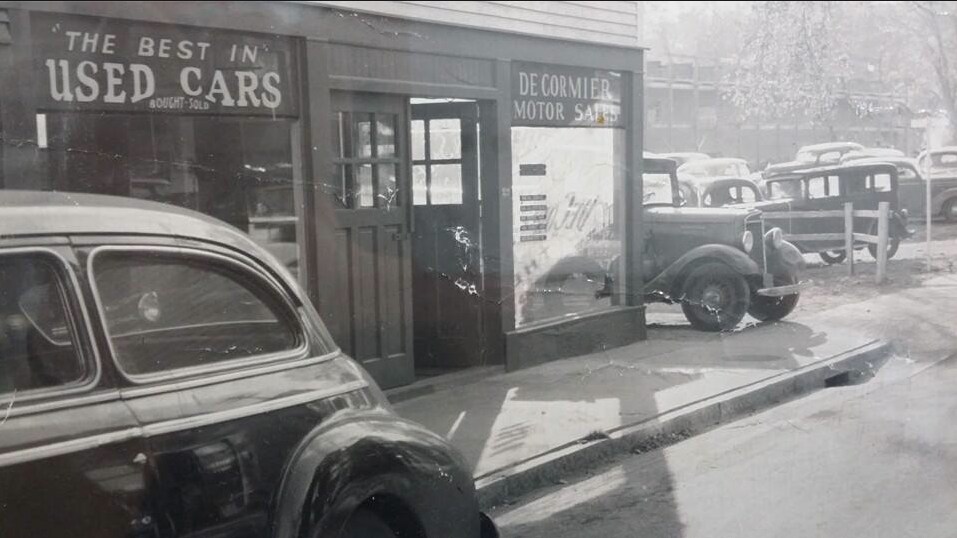 In late 1945, George decided he wanted to open his own business and be his own boss. His idea was to purchase older vehicles, repair them, and sell them for profit. He wanted to sell used cars, have a repair shop, and hopefully one day have a New car franchise. This idea would become "De Cormier Motor Sales".

The original building on 24 Maple Street here in Manchester was an older two story with large windows on the first floor and two apartments upstairs.  He paid Victor D'Anniello 3 months rent in advance, put the deposits down for the phone and lights, and purchased a desk, a bench grinder, an electric drill, a clamp and vise, a chain fall, a work bench, a jack, 2 creepers, and a compressor from Norma and Leonard Brown (former owners of the Silk City Garage).

Carter, the oldest of the five children has many memories. He attended CCD classes 

on Saturday's

 at St. James Church on Main Street. After class, he would walk over to the shop and sweep, clean and do any other odd jobs assigned by his father.  He can recall the barber shop across the street called Scarloto's where he would go and get his hair cut. The Lucky Lady Laundry on Maple Street where he would drop off and pick up the laundry. Davis' Bakery, which had delicious chocolate eclairs and scrumpscious apple turnovers, was across the street from the Mary Cheney Library and owned by Mrs. Numbchick. On snow days, Carter would use the big tractor his father had taken in on trade to plow the lot. Carter also enjoyed listening to his father talk to the customers who came in to the shop.

In 1955, De Cormier received a Rambler Franchise. They also had Hudson's and Metropolitan's until Hudson merged with Nash and became American Motors. In 1970, George dropped the American Motors portion and signed up with Datsun which later became "Nissan".  

In December of 1960, while celebrating 15 years of successful business, De Cormier Motors moved to a new location on 285 Broad Street. This would be their home for the next 36 years. This new location offered more space, and a luxurious showroom with air conditioning and tinted store windows colored green, red, and white. Most dealers did not have these luxury's. Business was growing. George's ethical business plan was in full swing. Customers could come in, get treated with respect, and get a fair deal. Over the years, De Cormier Motors has earned a large,  dedicated customer base. Customers who bought or leased here would refer friends and family members knowing that the De Cormier family would care for them.

In 1996, De Cormier moved to 259 Adams Street.
In 2010, De Cormier moved to it's present address here at 30 Tolland Turnpike